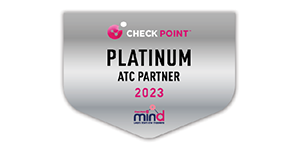 What to expect from Check Point Training and Certifications
Check Point Software Technologies Ltd. is a leading provider of cyber security solutions to governments and corporate enterprises globally. Its solutions protect customers from cyber-attacks with an industry leading catch rate of malware, ransomware and other types of attacks. Check Point offers a multilevel security architecture that defends enterprises' cloud, network and mobile device held information, plus the most comprehensive and intuitive one point of control security management system. Check Point protects over 100,000 organizations of all sizes. Learn how to optimize management of your security infrastructure with Check Point Certifications.
Check Point Courses
Please contact the Mecer Inter-Ed team using our Quick Contact form for further details on Check Point Training and Certifications.